October 17, 2017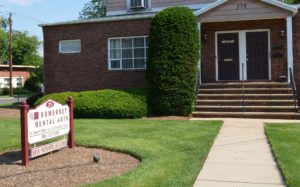 If you're new to Somerville or any of the surrounding communities, we would like to invite you to get to know our dentist, team, and family-friendly dental office. At Somerset Dental Arts, we offer a wide range of dental services, a friendly team, and an atmosphere free from stress and discomfort. Whether you're looking for a new dentist or you're new to the area, keep reading to hear more about all the skilled services we offer our patients. Don't hesitate to give us a call anytime to find out more or schedule an appointment with our skilled dentist, DawnMarie DiGrazia, DMD, and her knowledgeable dentistry team.

Skilled Family Dentist Dr. DiGrazia
Dr. DiGrazia has years of training and experience that allow her to offer every patient the quality care they deserve. Our mission is to provide every patient dental treatment that we would be proud to offer our own family members. Dr. DiGrazia regularly completes continuing education courses to ensure she is at the leading edge of all the new dentistry techniques and technologies in order to offer patients care that is more effective, efficient, and painless.
Comfortable & Family-Friendly
We are happy to see every member of your family in our Somerville dental office. While some kid's dentists aren't comfortable for adults and some adult dental offices are no fun for kids, we offer a warm, comfortable atmosphere that puts every patient at ease. Our team truly cares about you and your loved ones. We want you to enjoy visiting our office, and we do our utmost to create a welcoming environment where every patient is completely comfortable.
What Our Patients are Saying
We would love to tell you all about how our office is the best dental practice in Somerville, but we know that it will mean more coming from our patients. You can explore our patient reviews to learn more about what you can expect in our office, and here are some of the reviews we've heard recently:
"Great dental place, highly recommend!! Attitude and professionalism of staff makes for an enjoyable visit." Ray C.
"I had a cavity filled yesterday, I didn't feel it then and I don't feel it now! Plus, you can't even tell anything was done!" David P.
"I cannot say enough about the entire practice. You will feel nothing but comfortable from the moment you step in to when you leave. The hygienist is the best in the business. She is a personable, great at what she does, and a perfectionist, which is exactly what you want when it comes to your dental health. As for the dentist, Dr. Dawn should be the standard. She is gentle, makes you understand everything that needs to be done, and follows through with nothing but absolute perfection. Not to mention that she has an amazing personality. BOTTOM LINE. There is no better practice from soup to nuts than Somerset Dental Arts." David L.
Prepare for Your First Visit
If you're new to the office, you can find all our new patient documents and information on the website. You can also review our services, get to know our team, and explore our insurance and financing policies from the comfort of home.
No Comments »
No comments yet.
RSS feed for comments on this post.
Leave a comment