November 26, 2017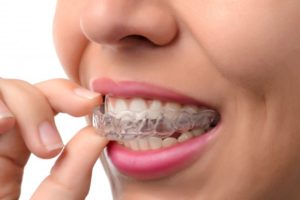 Stop! Strike a pose. You've got the smile you've always wanted. You can't stop grinning because you exude happiness. This is a glimpse of your future, one that is full of joy and satisfaction. Now that you've chosen Invisalign in Somerville you've put yourself on track for fulfilling this scenario. But, you're still curious as to what the differences are between Invisalign and traditional braces. The best way to hash this out is with a side-by side comparison.
What's the Purpose of Invisalign and Traditional Braces?
Invisalign and traditional braces serve the same purpose – to straighten your teeth and give you the smile you've always wanted. Although mainly considered cosmetic, there other benefits to choosing either procedure.
Prevents Grinding – One benefit of having straight teeth is that it allows your teeth to align properly, and prevents grinding (bruxism). This is important because grinding can cause damage to the enamel on your teeth, leaving them vulnerable to further decay.
Prevents Gingivitis – Another benefit is that having properly aligned teeth corrects crowding. When your teeth are crowded, it makes it harder to get to some areas for cleaning. This allows harmful bacteria to grow, and can eventually lead to gingivitis.
Allows Better Digestion of Food – Properly aligned teeth also make it easier to chew and better digest your food, as your teeth mesh with each other in the manner they were designed to.
The Comparison – Invisalign vs Traditional Braces
Although both methods yield the same outcome, there are certain advantages to taking the Invisalign route.
Convenience – Whereas traditional braces are permanently placed and can only be removed by your dentist in Somerville, Invisalign aligners are removable.
Appearance – Another advantage of Invisalign aligners is that they allow you to maintain some discretion, and not announce to the world that you are having corrective work done to your teeth. Also, they are made from a clear plastic, where as traditional braces are constructed of metal.
Oral Hygiene – The fact that Invisalign aligners are removable also makes for thorough cleaning, allowing for brushing and flossing twice a day. This elevates the level of care and bacteria annihilation that can be achieved.
The Difference in Cost
When making your decision, another factor to consider is the cost. Traditional braces can range in price from $1800-$5000, while Invisalign can average around $5000. To determine which route will be the best for you reach out to your cosmetic dentist in Somerville.
About the Author
Dr. DawnMarie Digrazia, D.M.D. attended the University of Miami and Farleigh Dickenson University for her undergraduate education, earning a B.S. in biology. She went on to earn her D.M.D. from the University if Medicine and Dentistry of New Jersey. A member of the Academy of General Dentistry and New Jersey Dental Association, Dr. Digrazia is Invisalign certified. She practices at Somerset Dental Arts and can reached for more information at her website.
No Comments »
No comments yet.
RSS feed for comments on this post.
Leave a comment