December 16, 2017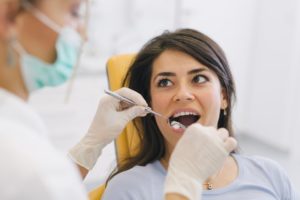 Some people can be nervous prior to their first dental visit. Many questions may fly through their head on their way to the office like, "Am I prepared?" "What are they going to ask me?" "What are they going to look at?" Fortunately, your dentist in Somerville is here to ease any tension you might have.
Dental visits are meant to  ensure your oral health is on track and that you are taking proper care of your mouth and teeth at home. If you need to adjust your routine, your dentist will be the one to tell you how. If you need a special screening or treatment done, they'll be the ones to do it.
How to Prepare for Your First Dentist Visit
Before heading to your dentist, make sure to brush and floss beforehand. Not only is it a kind gesture to the dentist, but it makes it easier for them to perform their checkup. If you or someone you're taking is nervous about their first visit, be sure to tell them exactly what to expect ahead of time so they aren't caught off guard. Many practices cater to people with anxiety, so they'll be prepared to make them as comfortable as possible.
If it's your child's first visit, make sure you don't take them while it's naptime as they will need to be awake during the exam. Keep them on your lap during and always be available in case they get scared. Acclimating your child to a new environment early is key to making future visits easier.
What to Expect During Your First Visit
After you've completed your new patient registration, you'll be given a brief introduction and walk through of the office, showing all the tools and facilities available to make your dental experience a positive one. Once you're in the chair, you'll have the opportunity to tell your dentist any concerns you have prior to examination so they know what to look for.
First, the dentist will conduct X-rays that can reveal cavities in between your teeth as well as the height and health of supporting bone in your jaw. This will be followed with an oral examination for tooth decay, a bite evaluation, and a depth measurement of the pockets surrounding your teeth. They may also conduct an oral cancer screening as part of their early detection practices.
The Cleaning: A Professional Level of Care
A basic professional dental cleaning consists of three main parts. This includes scaling, polishing, and fluoride treatments.
Scaling – This involves the use of dental tools to remove hardened plaque (tartar) and reduce the rate of periodontal disease. If you feel nervous about this treatment, ask your dentist about sedation techniques to help you relax during the cleaning.
Polishing – Just like at home but even stronger, polishing removes stains you may have had on your teeth and polishes your enamel. This will give your teeth a very clean feeling you won't get at home.
Fluoride treatment – More commonly used for children, the American Academy of Pediatric Dentistry recommends this to strengthen tooth enamel during the years when they are most prone to cavities. However, they can also be used by adults who are at high risk for tooth decay.
Don't be in the dark when it comes to dental visits. Schedule your first visit with your dentist in Somerville today!
About the Author
Dr. Dawnmarie Digrazia, D.M.D., attended the University of Miami and Fairleigh Dickenson University to receive her B.S. in biology. She then went on to earn her Doctor of Medicine in Dentistry at the University of Medicine and Dentistry of New Jersey. She previously worked as a dental assistant before pursing her dream of helping others regain their smile. To learn more about her practice, contact her at (908) 722-2999 or visit her website.
No Comments »
No comments yet.
RSS feed for comments on this post.
Leave a comment