March 9, 2018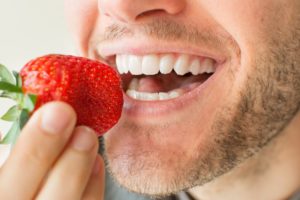 Your dentist in Somerville has always emphasized how important maintaining a good oral care regimen is to keep tooth decay and gum disease at bay. However, have you ever stopped to consider how your daily eating habits can affect it as well? If you don't brush right after consuming certain foods, they could damage your teeth. Brushing, flossing, and seeing your dentist all matter. However, nutrition is often overlooked as well.
Today, we'll be highlighting a few habits you may want to kick as well as ones to maintain for life. It can mean the difference between keeping your teeth or needing replacement teeth later.
Take Note of Your Daily Fluids
Your daily fluid intake can make a big difference on your teeth. When thinking about your oral health, consider which fluids you drink daily. Take a moment to answer the following:
Do you drink soda for lunch or dinner every day?
Do you typically have coffee or juice in the morning?
Are you having wine with dinner?
How often are you drinking plain water?
Many people who drink large amounts of acidic or sugary drinks such as soda, wine, juice, and coffee are likely to experience dental erosion, a condition that causes tooth enamel to slowly wear down. To reduce this, consider swapping a few of these drinks out for water. Not only is water better for you, but it works to wash away food particles and plaque you've gathered throughout the day.
Do You Snack In Between Meals?
Did you know that snacking in between meals is more harmful for your teeth than having larger balanced meals? Snacking increases the chances of food getting caught in between your teeth for many hours at a time. This creates a haven for bacteria to grow and produce harmful plaque.
Many dentists now recommend patients eat more balanced meals to improve their oral health. Eating meals that consist of foods from multiple food groups, such as dairy, vegetables, grains, and fruits helps you get the nutrients you need to keep your teeth and gums healthy.
Dairy foods like cheese and yogurt can kill bacteria while dark leafy greens like spinach and kale contain mouth-healthy vitamins and minerals. Consider these foods for your gum health and try to consume more of these nutrients to improve your oral health overall.
What Do Your Oral Care Habits Look Like?
According to your dentist in Somerville, seeing your dentist every six months is key to removing hardened plaque from your teeth and gums throughout the year. Unfortunately, brushing twice a day with a fluoridated toothpaste and flossing daily isn't enough to keep decay and gum disease at bay. Furthermore, by developing a habit to visit your dentist bi-annually, you'll be able to catch early signs of disease before they manifest into something worse.
Have more questions about improving your diet or oral health? Ask your family dentist in Somerville during your next scheduled appointment!
About the Author
Dr. Dawnmarie Digrazia earned her D.M.D. degree at the University of Medicine and Dentistry of New Jersey. She's currently a member of the Academy of General Dentistry and worked as a dental assistant prior to earning her doctorate. To learn more about her practice, contact her at (908) 722-2999 or visit her website.
No Comments »
No comments yet.
RSS feed for comments on this post.
Leave a comment