April 7, 2018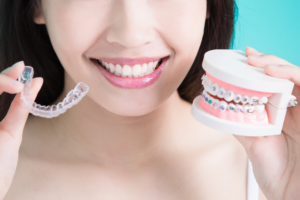 Spring is in the air. New flowers are blooming, and the temperatures are rising. With a sense of new beginnings, now is the perfect time to invest in yourself with the smile that you have always wanted. If you have lived with insecurities from misaligned teeth, you can now get the smile of your dreams with braces or Invisalign in Somerville, but which is the right choice for you? There are several benefits to each option to help you improve your confidence with a healthy, straight smile.

Traditional Braces
For well over 100 years, traditional braces have been the trusted orthodontic treatment. By attaching wires and brackets to your teeth, they are gradually moved into their ideal positions. This provides an affordable and convenient solution for treating even the most complex bite and alignment issues.
Although they provide proven results, they are quite noticeable and will cause changes to your daily routine. There are certain foods that you must avoid while wearing them, like gum, candies, and popcorn. In addition, your oral hygiene routine will take a bit longer as you must clean around the wires and brackets.
Invisalign
As an alternative to traditional braces, many are now seeing their orthodontist in Somerville for Invisalign. Invisalign is far different than metal braces because no brackets or wires are used. Instead, clear plastic aligners are worn over your teeth to gradually move them into position. The aligners provide a less noticeable treatment that is virtually restriction-free.
Since the aligners are removable, you can still eat and drink what you like. In addition, your oral hygiene routine will remain unchanged; however, you will need to clean the aligners each day. You will also complete your treatment in less time than that of traditional braces. On average, you will be finished with your series of aligners in about 12 months.
While clear braces in Somerville have become the preferred choice, they can cost a little more than traditional options. In addition, you must be committed to wearing them for at least 22 hours per day. Although they are effective for treating an array of bite and alignment issues, they cannot be used for all cases.
Which is the Right Choice for Me?
To help you make the best choice for your individual needs and preferences, you will need to schedule a consultation with your orthodontist. They will create a customized treatment plan to help you achieve the smile that you have always wanted.
About Dr. Dawnmarie Digrazia
Dr. Dawnmarie Digrazia is a trusted provider for high-quality dental care. She takes pride in providing her patients with the solutions they need to achieve a healthy, beautiful smile. In addition to general dentistry, she also offers orthodontic options to correct bite and alignment issues. She will help determine if metal braces or Invisalign is the right choice for you. If you are ready to start your journey to a straight smile, contact Somerset Dental Arts today to schedule your consultation.
No Comments »
No comments yet.
RSS feed for comments on this post.
Leave a comment