May 10, 2018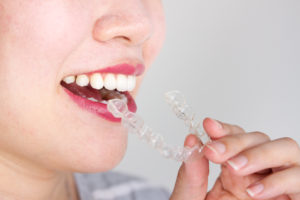 It's hard to forget the highs and lows of adolescence. Although that first taste of independence is thrilling, it's simultaneously mixed with a lot of stresses and strains! The good and the bad combine to make the teen years "the best of times and the worst of times." As a parent, it's natural to want to ease the negatives and enhance the positives during this phase – for both you and your teen! Fortunately, there's an easy way to do that if you're looking for a way to straighten your child's teeth. Invisalign in Somerville is an invisible, comfortable option for teens that is also much easier on parents as well. Keep reading to find out more!
What Advantages Does Invisalign Offer Both Teens and Parents?
It's no surprise that teens benefit from Invisalign because they don't have to deal with the embarrassment of wearing traditional brackets and wires. Here are some ways you'll benefit as a parent!
Fewer Visits – It's a safe bet that everyone could use a little extra time these days. With braces, you'll be heading to the orthodontist about every four weeks. With Invisalign, those visits are reduced to every four weeks.
Better Hygiene (and Fewer Cavities) – It's very difficult to keep the teeth and gums clean in brackets and wires. The vast majority of teens struggle with brushing and flossing anyway, so when you combine that with braces, it's a recipe for getting a lot of cavities. Since Invisalign patients can simply remove their trays before brushing and flossing, cavities are much easier to avoid. Being faced with the hassle and expense of fixing cavities isn't something any parent wants to deal with when their teen is done with orthodontics!
No Food Restrictions – Since the trays only have to be worn a minimum of 22 hours a day, they can be removed prior to meals. Many teenagers have a hard time complying with the dietary restrictions that go with braces and wind up eating things like popcorn kernels or hard candy that can break their brackets off. With Invisalign, you won't have to deal with those accidents!
Will Invisalign Work For Your Teen?
The best way to determine if your teen would be a good candidate for Invisalign is to schedule a consultation with a cosmetic dentist in Somerville.
However, you'll be glad to know that Invisalign works for nearly all of the same bite issues that braces work for:
Overbite
Underbite
Crowding
Gaps
Crossbite
The cost varies from patient to patient depending on the severity of their case. Some patients will need to be in treatment longer than others, but generally, the cost is comparable to traditional braces.
Very few people escape their teen years without needing orthodontic work. Why not make the process as easy as possible for everyone involved? With Invisalign, you can!
About the Author
Dr. DawnMarie DiGrazia is an Invisalign-certified dentist who knows that a beautiful, straight smile has the power to change her patients' lives. From teens to mature adults, she's worked with a wide variety of patients with unique needs and goals to give them outstanding results – without the hassle of braces. If you have any questions, she can be contacted via her website or at (908) 722-2999.
No Comments »
No comments yet.
RSS feed for comments on this post.
Leave a comment