September 5, 2018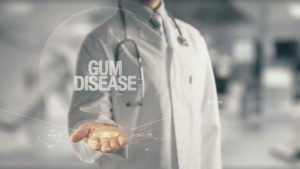 Did you know that an estimated 3 out of 4 Americans have some form of gum disease? Unfortunately, although many people are aware of the importance of cavity prevention, they don't think about their gum health. But the truth is that your gums are every bit as important to your smile as your teeth are. In fact, gum disease (also called periodontal disease) is the leading cause of tooth loss. The good news is that there several effective types of periodontal therapy in Somerville that can reduce your risk of tooth loss and help you enjoy a healthy smile well into old age. Keep reading to learn more about why your gums are so important and what you can do to improve them!
Why Are Healthy Gums So Important?
Your gums are the foundation of your oral health. The gum tissue and underlying jawbone are what support your teeth, give them strength and stability – and ultimately, keep them in place.
In fact, even if a tooth has never had a cavity, it can still become loose and fall out if the gums aren't healthy enough to support it.
How Can Periodontal Therapy Improve Your Gum Health?
If you've been diagnosed with gum disease, the following therapies can be incredibly effective at managing it and preventing tooth loss. They might be recommended on their own or in conjunction:
Laser therapy – A laser is an incredibly comfortable and effective way to treat gum tissue. It's more precise than traditional instruments and allows a dentist to remove unhealthy tissue with less discomfort and more accuracy. You'll also heal faster!
Deep cleaning – Also called a "scaling and root planing," this procedure removes the tartar and bacteria under the gumline that contribute to gum disease. These deposits can't be accessed in the course of a regular cleaning, so a "heavier duty" cleaning is necessary. It usually requires more than one appointment, during which you'll be numbed for comfort. Afterward, it's crucial to get consistent maintenance cleanings – otherwise you may lose all the progress that was made during the initial deep cleaning.
Antibiotic gel – With this treatment, an antibiotic gel can be placed precisely where it needs to be – under the gumline where bacteria are attacking your gum tissue and jawbone. This is often done right after an initial deep cleaning, and the two treatments together are quite effective.
Gum disease doesn't have to condemn you to tooth loss. With regular care, good hygiene, and effective treatment, you can hang on to your teeth for life!
About the Author
Dr. DawnMarie DiGrazia is a dentist in Somerville who knows that gum health is crucial to overall oral health. She offers a variety of safe, reliable and effective treatments because she wants to do everything she can to help her patients have the healthiest smile possible. If you have any other questions about how deep cleanings or other therapies can benefit you, she can be reached via her website or at (908) 722-2999.
No Comments »
No comments yet.
RSS feed for comments on this post.
Leave a comment