February 6, 2019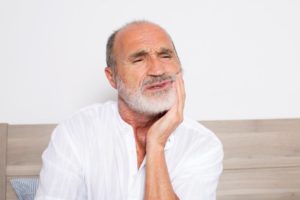 You may be surprised to know that you don't have to be "old" to have many of the health-related conditions out there. However, age can play a factor in the severity of a disorder if you're not careful. When it comes to gum disease in Somerville, there are certain dangers you should know about, especially if you are an older adult. Let us explain further so you and your dentist can determine the best treatment plan.
What Causes Gum Disease?
As one of the most common dental problems people face, dentists treat gum disease daily. Also, known as periodontal disease, it can occur when plaque and tartar buildup from around the gum line, breaking down tissue and supportive bone, and irritating your gums. Gum disease should never be left untreated due to the possibility of gingivitis turning into periodontitis, which can lead to tooth and boss loss.
As a Senior, What Are the Dangers?
Anyone who is suffering from gum disease may experience similar symptoms. These can include:
Red, puffy, swollen, or bleeding gums
Teeth that appear longer than usual
Bad breath
Loose teeth
Painful chewing
However, if you have gum disease as a senior, it can be even more dangerous. As the bacteria builds, you can experience bone loss around your teeth. Seniors who have experienced tooth loss may have various options to replace missing teeth, such as dentures or dental implants; however, there are a few things you should consider if you have gum disease:
Tooth restorations are costly. Depending on your financial situation, dentures or dental implants can be costly. Check with your insurance and your dentist to see how you might be able to afford them.
Procedures can be painful. Much of your ability to heal quickly depends on your overall health. Dental implants require surgical placement, so if you smoke or have a weakened immune system, you may not heal quickly, which can result in a failed implant.
It can be linked to other health problems. Gum disease doesn't only affect your mouth. The bacteria can travel to other parts of your body, increasing the risk of heart disease, stroke, or even an infection in the lining of your heart. Patients with diabetes are also at a greater risk of gum disease is present.
How Can I Reduce the Risk of Gum Disease?
If you believe you may have or be at risk for gum disease, it is important that you speak with your dentist as soon as possible. Getting treatment quickly is key to improving your oral health. In the meantime, here are a few ways you can lessen your chances of developing gum disease:
Ask your dentist about brushing. The way you brush your teeth and gums is surprisingly important. Brushing too hard can cause damage. Instead, try keeping your toothbrush at a 45-degree angle and use short, circular movements. It can reduce your chances of gum disease.
Attend regular checkups. Visit your dentist every six months for regular cleanings. If you've developed gum disease, your dentist may want to perform periodontal therapy in Somerville more often to prevent further bacteria from forming.
Floss at least once a day. Just as important as brushing is flossing. The debris that can live between your teeth can lead to gum disease. Flossing between your teeth can get rid of any plaque buildup. If you are unsure of a proper technique or have trouble flossing, your dentist will be able to provide alternatives, if necessary.
Gum disease is a serious condition that should not be taken lightly. It is important to take care of your teeth and gums to prevent other health-related conditions from developing. Talk to your dentist today about the dangers of gum disease, and get back on track to proper oral health.
About the Practice
At Somerset Dental Arts, our team of experts will provide you with a comfortable, state-of-the-art experience. Offering regular checkups, emergency dental care, and tooth replacement, we are equipped with the proper skills and technology to meet your dental needs. You will receive exceptional service no matter how long it has been since you've visited a dentist. To learn more about us and how we can assist you, call (908) 722-2999 or visit our website.
No Comments »
No comments yet.
RSS feed for comments on this post.
Leave a comment