April 29, 2019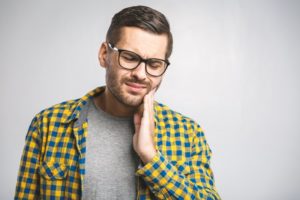 Worried that you might need a root canal? If so, then we have good news: modern root canal therapy is not only effective but gentle as well. In fact, root canals are the preferred treatment for dental problems that in the past would have led to a lost tooth. Your dentist will give you more information during your office visit.
 Five Signs You Might Need a Root Canal
Make an appointment to see your dentist if you're struggling with any of the following problems:
Persistent tooth pain: we're not referring to the occasional toothache that most people experience from time to time. The type of tooth pain that reveals the need for a root canal is frequent and often severe. You may feel like it has spread from the teeth into the surrounding bone.
Sensitive teeth: there are many possible causes for this problem. However, you may need a root canal if the condition shows no signs of going away.
Bleeding or discharge in the mouth: these are common signs of an abscess, a serious oral infection that requires immediate attention.
Red, tender, or swollen gums: these may indicate that the infection has spread into the tooth's pulp, the sensitive inner layer that contains arteries and nerve endings.
Difficulty chewing food: this may be an early warning sign of an infected tooth. It's best to have a dentist check the problem out just in case.
What to Expect during a Root Canal
Root canals are probably the most feared and least understood treatment available to modern dentistry. That's a shame, because root canal methods and tools have enjoyed startling leaps forward in the past decade. What was once an involved and sometimes uncomfortable experience is now much gentler. Here's what you can expect during the procedure:
Your dentist will remove the infected material inside the problem tooth. This is the best possible way to stop the infection in its tracks. You will receive anesthetic and, in some cases, sedatives to help you relax.
Your dentist will swab the pulp with an antimicrobial solution. The purpose of this step is to minimize chance of reinfection.
Your dentist will fill the cavity. This will restore the tooth's interior strength.
Your dentist will place a temporary crown. This will enable you to use the tooth during eating, speaking, etc. while enjoying freedom from discomfort. It will be replaced in a few days with the permanent crown, giving you long-term relief from the problem that brought you to the dentist in the first place.
Most patients are able to resume their regular activities the day after their root canal. You may feel some swelling or discomfort for a few days afterwards. In almost all cases, these problems can be managed with over-the-counter pain relievers such as acetaminophen or ibuprofen.
In today's world there's no reason for anyone to suffer needlessly from dental problems. See your dentist in Somerville right away if you're struggling with any of the symptoms discussed in this post. You'll soon be well on your way to brighter smiles and better days.
About the Author
Dr. DawnMarie DiGrazia has been working as a dental professional since 1993. A graduate of the University of Medicine and Dentistry of New Jersey, she's skilled in many aspects of general and restorative dentistry, including root canal therapy. You can reach her office online or by calling (908) 722-2999.
No Comments »
No comments yet.
RSS feed for comments on this post.
Leave a comment