October 15, 2019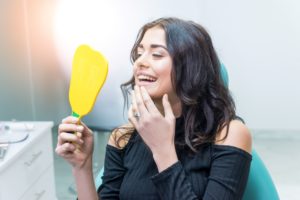 Believe it or not, the end of the year is right around the corner. As you plan family meals and shop for the perfect gifts, a healthy smile should be at the top of your priority list. At the end of the calendar year, your dental insurance will expire. You will not be reimbursed for your premiums, deductible, or unused limits. With less than 3% of Americans meeting or exceeding their annual coverage, here are 4 tips to get the most out of your dental plan before you lose it.

1. Visit Your Dentist Regularly
The American Dental Association recommends everyone visit their dentist twice a year for a cleaning and checkup. Unfortunately, one-third of adults don't follow this advice. Often, it's thought you're saving money if you don't visit your dentist until a problem develops, but this couldn't be further from the truth. Routine dental care lowers your overall oral health expenses by keeping your teeth and gums healthy. In fact, every $1 spent on prevention saves $50 on restorative services. Although every dental plan is different, most policies cover preventive appointments 100%, so you can invest in a healthy smile for only a small co-payment.
2. Use Your Annual Limit
Paying your monthly premium gives you access to affordable dental services. Besides preventive care, you're also given an annual limit to use toward restorative treatments. After paying your deductible, you'll have an allowance to cover 50% to 80% of the cost of restorative procedures, like fillings and root canals. You can get the treatments you need without breaking the bank to quickly reinstate a healthy smile.
3. Choose an In-Network Dentist
Your insurance carrier will recommend you visit an in-network dentist. They have pre-negotiated rates with the insurance company to lower the amount you need to pay. Although it's often best to visit an in-network dentist, you can still choose any location that accepts your insurance. Whether in-network or out, your dentist will file the necessary claims and paperwork to maximize the value of your policy.
4. Beat the End of the Year Rush
During the last couple of weeks of the year, there is a big rush to use dental insurance before it expires while other people are trying to avoid fee increases. If you wait too long to schedule an appointment, there may not be any availabilities open for the year. Don't risk losing your coverage. Despite the busy holiday season, visit your dentist as soon as possible.
Invest in a Healthy Smile Today!
Let's face it, dental insurance can be confusing. Don't let that stand in your way of getting a healthy smile for discounted rates. Your dentist works on your behalf with your insurance carrier and explains how your benefits are being used to make the most of your policy. You can start the new year with a healthy smile for minimal out-of-pocket expense.
About Dr. DawnMarie DiGrazia
Dr. DiGrazia earned her DMD degree from the University of Medicine and Dentistry of New Jersey after previously working as a dental assistant at Somerset Dental Arts. Now, she provides high-quality care to change her patients' lives through beautiful smiles. She's in-network with many leading insurance carriers to keep dental services affordable. If you need an appointment before the year ends, contact our office today.
No Comments »
No comments yet.
RSS feed for comments on this post. TrackBack URL
Leave a comment