November 19, 2019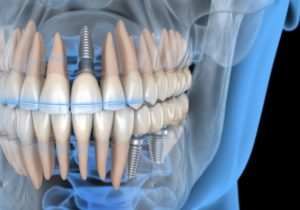 Most people have heard that dental implants are one of the best tooth-replacement options available because they rebuild the structure from the root up. However, many people don't know that every treatment differs, and not every patient is a good candidate for the procedure. Read on for five facts you should familiarize yourself with before you schedule your initial consultation.
You May Need a Bone Graft
Dental implants need to be surgically placed in your jawbone. Unfortunately, not everyone can schedule their surgery right away because they may not have a dense enough bone for the implants to successfully fuse with. In this case, your implant dentist may suggest a preparatory bone graft, where a piece of bone will be removed from another part of your body and transplanted to your jaw to make it stronger.
It's Best to Quit Smoking
Countless studies have shown that tobacco use, including smoking cigarettes, can impact the healing process after dental implant surgery. Heavy smokers experience a higher risk of implant failure because their mouths take longer to heal, increasing the chances of infection and oral health problems to develop.
Certain Health Conditions May Not Make You a Good Candidate
Most well-controlled health conditions won't make somebody a bad candidate to get dental implants. However, patients with diseases such as HIV, uncontrolled diabetes, and autoimmune conditions can greatly increase the risk of failure. That's why it's important to discuss these issues with your dentist during your initial consultation. In addition, if you have a metal allergy (although few people are allergic to titanium) or react to other materials such as zirconium, be sure to discuss that with your dentist as well.
The Process Takes Place Over Several Months
As great as it would be to have a completely remodeled smile in a day, strength, stability, and durability take time to achieve. That's why the dental implant process typically takes place over several months. After your dental implants are placed, you'll need to go through an extensive healing process where they fuse with your jawbone through a process called osseointegration. This takes place between two and six months. However, both patients and professionals alike will agree that the procedure is well worth the time and financial investment.
Maintaining Good Dental Hygiene is a Must
Keeping up with your dental hygiene routine before and after your dental implants are placed is an absolute necessity in order to keep them healthy and reduce the chances of implant failure. Be sure to brush twice each day for two minutes, floss every day, and rinse your mouth with antibacterial mouthwash. Every six months, you'll need to visit your dentist for routine checkups and cleanings so they can diagnose and treat any issues while they're still in their early stages.
With these five facts about dental implants in mind, you'll be able to go into your initial consultation knowing what to expect and having realistic expectations. This restorative treatment could be the best choice for you, so be sure to schedule a visit with your implant dentist today to get any questions you may have answered.
About the Author
Dr. DawnMarie DiGrazia is passionate about restoring her patients' confidence and quality of life by offering high-quality restorative treatments. She takes pride in making dentistry comfortable for her patients and giving them the tools and care they need to restore and maintain their smiles. That's why she offers modern dental implants to help her patients achieve the closest replacement solution to their home-grown teeth. For questions or to schedule a consultation, visit Somerset Dental Arts' website or call 908-722-2999.
No Comments »
No comments yet.
RSS feed for comments on this post. TrackBack URL
Leave a comment