March 4, 2021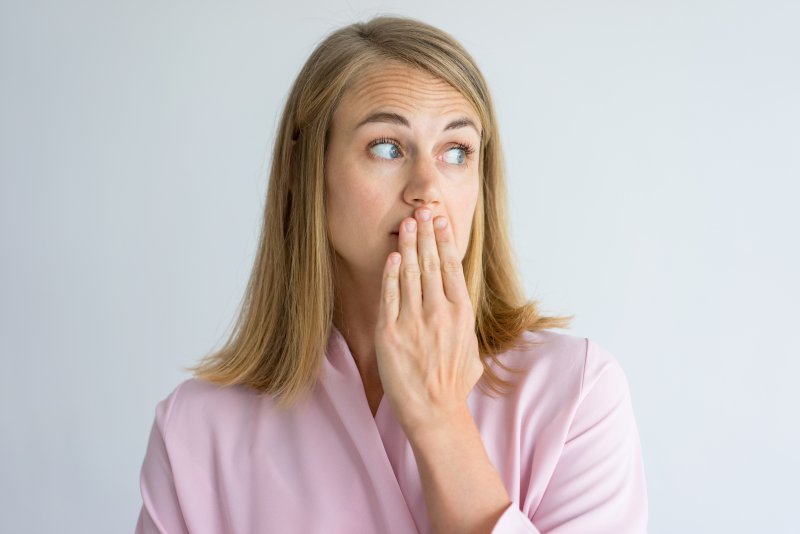 It happens to the best of us. You woke up with morning breath. It isn't pleasant for you or your significant other. It can even be embarrassing if you don't have the means to take care of it right away. Bad breath is more common than you may think. In fact, approximately 80 million Americans suffer from chronic halitosis, and most of the time, it originates from the gums and tongue. Fortunately, there are steps you can take to freshen up your smile. Continue reading to learn some tips that may help.
Brush Your Teeth Twice a Day
If you aren't brushing your teeth twice a day, it is no wonder why you have bad breath. Food debris, plaque, and bacteria accumulate in your mouth and can leave you with a foul smell. It is especially important that you brush before bed. You could even try an additional round of brushing with baking soda. This makes it more difficult for bacteria to grow.
Floss Daily
Brushing on its own isn't good enough. There are certain areas of your smile that the bristles can't quite reach. Be sure to brush at least once a day to remove plaque and bacteria from between the teeth and beneath the gumline.
Clean Your Tongue
Residue can build up on your tongue as well. Whenever you brush your teeth, don't forget to clean your tongue as well. You can either use your toothbrush or an inexpensive tool known as a tongue scraper that you can find at your local drugstore.
Use Mouthwash
Mouth rinses do a great job of covering up bad breath, but if your halitosis is a chronic issue, it will only mask the problem. You should still see your dentist to rule out any underlying issues in the mouth.
Stop Smoking
Tobacco products are bad for nearly every part of your entire body, including your smile. Smoking doubles your risk of periodontal disease and causes bad breath. Talk to your doctor, friends, and family about the best ways that you can quit for good.
Stay Hydrated
One common reason for bad breath is dry mouth. Drinking water can help to keep your smile fresh because it washes away food particles and bacteria in the mouth. If you have chronic dry mouth, talk to your dentist about possible solutions.
Have a Healthy Snack
High-fiber fruits and vegetables, like apples, carrots, celery, and pears, help to increase your saliva flow. This ultimately helps to wash away bacteria from the teeth, tongue, and gums.
Chew Some Gum
Have a piece of sugar-free gum in order to stimulate saliva flow. This way, you can wash away that food debris and bacteria that is likely causing your bad breath.
It is important to see your dentist if you have chronic bad breath. This could be caused by another oral health issue that needs to be treated, like an infection.
Bad breath isn't fun to deal with, but it can be avoided. Try some of the tips listed above and talk to your dentist. You may just find something that will work!
About the Author
Dr. DawnMarie DiGrazia is an experienced dentist who has been working in the field for more than two decades. She earned her DMD from the University of Medicine and Dentistry of New Jersey. Currently, she is a member of both the American Dental Association and New Jersey Dental Association. If you are struggling with halitosis, she would be happy to help you out. For more information or to schedule an appointment at her office in Somerville, visit her website or call (908) 722-2999.
Comments Off

on 9 Ways to Stop Bad Breath in Its Tracks
No Comments
No comments yet.
RSS feed for comments on this post.
Sorry, the comment form is closed at this time.