January 6, 2018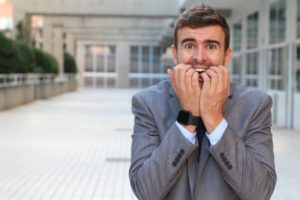 By the time the Big Apple in Times Square, New York had landed at ground level, you had already made up your mind that this would be your year to rejuvenate your oral care. And you made that pledge to yourself with the understanding that you would have to incorporate regular visits to your dentist into your new regimen. Although your intentions were quite noble, you still knew that in the back of your mind lurked a fear of dental visits that had not been overcome. To fulfill your desire to experience the benefits of oral health, your emergency dentist in Somerville says that you'll have to meet your anxieties head-on, but she also offers some solutions to help accomplish that.
Why People Fear Going to the Dentist
Don't feel isolated in your fear of visiting your dentist because studies show that between 9% and 15% of Americans suffer from a phobia about dental appointments that prevents them from going. That translates into 30 to 40 million people. The top causes of their fears are:
Fear of Pain – Six per cent of people surveyed said that they failed to visit their dentist specifically because of fear of pain.
Feelings of Helplessness – Many people have anxiety about being motionless in a chair for a prolonged period of time, with no control over what's going on.
Embarrassment – For folks who've been neglectful of maintaining proper oral hygiene, there can be a great deal of shame and embarrassment in having their mouth open for the dentist to see their iniquities.
Negative Past Experiences – Some people have memories from a negative experience in the past that still haunt them, which is why it's always important to choose the right professional to deliver your oral care.
Solutions for Dental Anxiety
Here are some ways to overcome your phobias and free yourself to experience the benefits of excellent oral health.
Talk to Your Dentist – When you call to schedule your first appointment with your dentist, be sure to mention that you have anxieties about visiting. You can also discuss these concerns with your local professional when you arrive. By communicating your fears, you will allow the expert the opportunity to prescribe a viable remedy.
Gain Some Control – By communicating with your dentist and her staff, you can set some parameters for what you can comfortably tolerate. You can even agree on certain hand gestures that you can give in the event that you feel discomfort. This will give you the psychological comfort that you need to feel relaxed about the procedure.
Find the Right Dentist – A final thing you can do is find the right dentist to deliver your care. It's important that you choose someone who is properly educated, patient, willing to answer your questions and whom you feel a certain connection with.
The Time is Now to Act
It's important that your new decree on oral health in the new year not be dismissed as a passing whim, because your overall wellness is linked to how you care for your mouth, teeth and gums. Furthermore, when you visit your dentist, you are taking a bold stance in preventing any developing issues from becoming major.
You have chosen a very practical and achievable goal for yourself in the new year. Follow through with it, and prepare to enjoy a beautiful smile and healthy teeth by contacting your dentist in Somerville today.
About the Author
Dr. DawnMarie DiGrazia attended the University of Miami and Farleigh Dickenson University, receiving a Bachelor of Science degree in Biology. She then went on to earn her Doctor of Dental Medicine degree from the University of Medicine and Dentistry of New Jersey. A member of the Academy of General Dentistry, Dr. DiGrazia practices at Somerset Dental Arts and can be reached for more information through her website.
No Comments »
No comments yet.
RSS feed for comments on this post.
Leave a comment