June 2, 2018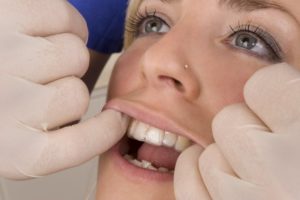 There once was a time when the only way to correct your bite issues was with traditional braces, but now a new day has dawned. With the advances in the dental industry, you can now straighten your teeth in a discreet manner with Invisalign in Somerville, but what can you do about any temporary discomfort that comes along with the process? Your local dentist weighs in with some helpful tips.
How Does Invisalign Work?
Before we jump into ways to prevent and lessen any discomfort associated with the Invisalign method, let's take a look at how the process works. It starts with a visit to your dentist, where your smile will be assessed, and digital images will be taken along with bite impressions. From the initial assessment, your dentist will be able to determine how long of a treatment you'll need. The data will be sent to a trusted lab that will fabricate a full set of trays.
Made from BPA-free plastic, each pair of aligners will be worn for roughly two weeks and then discarded for the next set in the sequence. You'll continue like this until the treatment process is completed. Keep in mind, though, that since the aligners are moving your teeth to a desired position, you may experience some initial discomfort. Thankfully, there are some steps you can take to lessen it.
What You Can Do About Any Discomfort
Although you may experience slight discomfort when you first place a new set of aligners in your mouth, it's important that you wear them for at least 22 hours a day to get the best results. Here are some tips for coping:
Shift Your Perspective – One psychological method you can use to deal with any discomfort is to change your way of thinking. You can reflect on how a new pair of pants or shoes may feel a little uncomfortable at first and how you have to "break them in." Use the same rationale to overcome any initial discomfort from your aligners.
Distract Yourself – If you're concentrating too much on any sensitivity, another remedy is to distract yourself with activities that require your full attention. Before you know it, the period of adjusting will have transpired.
Practice Excellent Oral Hygiene – Keeping your teeth and aligners clean helps to prevent any dental problems that could compromise your oral health and exacerbate pain down the road from bacterial infection.
Having a straight set of teeth will provide you with the proper alignment to chew your food better, speak clearly and smile with confidence. So to get the ball rolling on the process and to learn more about how to prevent discomfort, reach out to your cosmetic dentist in Somerville today!
About the Author
Dr. DawnMarie DiGrazia earned her dental degree from the University of Medicine and Dentistry of New Jersey and has since gone on to provide the best oral health care to her patients for nearly 20 years. She is Invisalign certified and also maintains membership in several professional organizations to ensure that her patients continue to get the absolute best care. She practices at Somerset Dental Arts and can be reached for more information through her website.
No Comments »
No comments yet.
RSS feed for comments on this post.
Leave a comment