July 13, 2018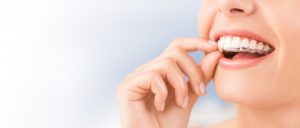 Having a correctly aligned smile is priceless. It leaves you with more confidence and improves the function of your teeth. Still, to correct your crowded, gapped or misaligned digits, you don't want to wear traditional braces. You're left wondering, "Is there a better way?" There is one with Invisalign in Somerville. As you read on, you'll learn what it is and how long it takes to complete the process.
What are Invisalign Clear Braces?
The Invisalign method uses a series of clear, BPA-free plastic trays to move teeth to the correct position. The process starts with a consultation with your dentist where the following occurs:
3-D Imaging – Using the latest technology, your dentist will capture images of your smile so he or she can properly plan your treatment process.
Bite Impressions – Next, bite impressions are taken that are sent to a trusted lab that will fabricate your complete series of trays.
When the clear braces are ready, you'll return to the office to get the entire series. You'll wear each pair for two weeks and then discard them for the next set in the sequence.
How Long to Wear the Clear Braces?
One of the advantages that Invisalign offers over traditional braces is that it provides a shorter treatment period. The length of time you wear the clear braces comes down to your specific needs, but on average, patients' treatments last between eight and 18 months.
One of the biggest factors that plays a role in the amount of time spent wearing Invisalign aligners and the overall success of the treatment process is adhering to the 22-hour rule. For the Invisalign method to be effective and to stay on track with your dentist's pre-treatment, custom plan, it's important to wear your clear braces at least 22 hours a day.
Other Advantages of the Invisalign Method
Better Oral Health with Invisalign – Not only will you spend less time wearing your clear braces, you will also be able to enjoy better oral hygiene. That's because you'll be able to remove your trays to brush and floss as normal without compromising your results. This ultimately amounts to you having a healthy oral cavity to accompany your beautiful new smile.
Lead A Normal Life – One of the other big advantages of the Invisalign method is that you'll be able to eat all the foods you normally would. Whereas traditional braces place certain restrictions on what you can consume, that barrier is overcome with your clear braces because they can be removed.
You now have the ability to get the smile you've always wanted in a manner that allows you to maintain your dignity and lifestyle. To learn more about the Invisalign process, reach out to your cosmetic dentist in Somerville to schedule an appointment today!
About the Author
A graduate of the University of Medicine and Dentistry of New Jersey, Dr. DawnMarie Digrazia has been practicing dentistry for nearly two decades. A member of several professional organizations, she takes pride in being a problem-solver and helping her patients achieve the smile of their dreams. Dr. Digrazia practices at Somerset Dental Arts and can be reached for more information through her website.
No Comments »
No comments yet.
RSS feed for comments on this post.
Leave a comment