January 21, 2019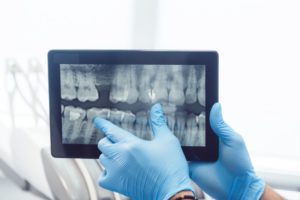 You visit your dentist in Somerville regularly for a routine checkup and cleaning. While they examine your mouth, you trust that they will be able to find anything amiss and then fix it. One critical tool that enables them to do just that is X-ray imaging. Without it, many conditions would go undiagnosed until much later, when severe damage could already be done. Find out more about this important part of preventive care and maintaining your dental health for the long term.
Why does the dentist need to take X-rays of my mouth?
At your six-month appointments, your dentist in Somerville always performs an oral exam, in which they visually check your gums, teeth, mouth, tongue, and throat for any abnormalities. Although your dentist is a trained professional, they can't see everything that's going on in your mouth. Some oral conditions, especially in the early stages, do not manifest on the surface of your mouth. X-rays allow your dentist to get a better picture of your oral health and to catch any problems as soon as possible. That way, you receive the treatment you need before the problem causes damage and needs extensive treatment.
What is the dentist looking for in the X-rays?
Essentially, X-rays show what dentists cannot see with the naked eye. Your dentist looks for specific signs to do the following tasks:
Find even the smallest traces of tooth decay, especially in between teeth where it is difficult to see.
Determine the extent of the tooth decay inside the tooth.
Locate abscesses or infections, which can manifest on X-rays before causing noticeable symptoms.
Spot tumors, cysts, and other masses near the root.
Identify congenitally missing or impacted teeth, such as wisdom teeth.
Evaluate children's developing teeth.
Detect jaw disorders.
Recognize bone loss.
Are X-rays safe for me?
For years, X-ray technology has made improvements in reducing the amount of radiation. These days many dental practices use digital X-rays, which decrease the radiation even more. However, you should wear a leaded apron over your chest, abdomen, and thyroid. If you are pregnant or breastfeeding, you should tell your dentist.
Through the advanced technology of digital X-rays and the expertise of your dentist, you can be sure that you will receive the treatment you need to enjoy oral health for years to come. The next time you're at the dentist's office for a checkup and you're getting your X-rays done, ask them about what they see. If they find that nothing appears to be wrong through their visual oral exam and in the X-rays, you can feel confident that your mouth is the perfect picture of health.
About the Author
Dr. DawnMarie DiGrazia started her career in dentistry in 1993 at Somerset Dental Arts as a dental assistant. In 2002, she finished her D.M.D. at the University of Medicine and Dentistry of New Jersey. She is certified in Invisalign and enjoys helping patients feel comfortable during their appointments and regain their beautiful smiles. To schedule an appointment with her, you can call (908) 722-2999 or click here.
No Comments »
No comments yet.
RSS feed for comments on this post.
Leave a comment