April 30, 2021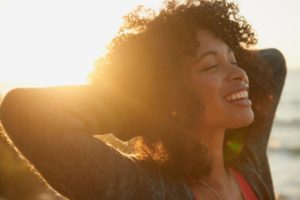 As the weather begins to warm up and Covid-19 vaccines become increasingly available, more and more people are spending time outside. It's common knowledge that jogging, swimming, and other outdoor activities are great in terms of your health. But did you know that getting plenty of sun can also improve your oral health? Read on to learn how spending time outdoors can keep your smile bright and healthy!
How the Sun Affects Your Smile
Sunlight is the best way for your body to receive vitamin D, which is essential in maintaining strong bones and teeth. Vitamin D enables your digestive system to absorb calcium from the foods you eat. Along with phosphorous, calcium helps create the hard outer layer of your teeth, called enamel. Vitamin D also plays a key role in controlling the immune system.
Without an adequate supply of vitamin D, you could develop all sorts of problems for your oral health as well as your overall body health, including:
Cavities
Tooth sensitivity
Gum disease
Osteoporosis
Weakened muscles
As you can see, it's crucial to make sure you're getting enough vitamin D, whether it's through your diet or by spending time outdoors.
How Much Time Should You Spend Outside?
The amount of sunlight you need actually depends on how much melanin you have. Melanin shields your skin from overexposure to the sun's rays. As a result, people with darker skin tones have to spend more time in the sun to receive the same amount of vitamin D as someone with lighter complexions. For Caucasians, spending 10 to 30 minutes in direct sunlight a few times per week should be sufficient. Those with darker skin tones may require 30 minutes to an hour or more.
Try to get your sun exposure around midday. That's when the sun's UVB rays are the most intense, making it the ideal time to absorb vitamin D.
Other Ways to Get Vitamin D
Obtaining vitamin D from the sunlight is the best way to get it, but there are alternatives if you have trouble finding the time to go outside. Certain foods and beverages are great sources of vitamin D, such as:
Fatty fish
Eggs
Dairy products (milk, butter, cheese, yogurt) from pasture-raised animals
If you're not sure whether you're getting enough vitamin D (or any other vitamin), ask your doctor about taking a multivitamin or a supplement. That way, you can be sure you're getting all of the nutrients you need to keep your smile healthy!
About the Author
Dr. DawnMarie DiGrazia is a dentist in Somerfield, NJ with more than two decades of experience in the field. She achieved her Doctor of Dental Medicine degree from the University of Medicine and Dentistry of New Jersey. She strives to help her patients maintain healthy bodies as well as healthy smiles. For more information on getting all of the vitamins you need, visit her website or call (908) 722-2999.
Comments Off

on How Spending Time Outside Can Benefit Your Oral Health
No Comments
No comments yet.
RSS feed for comments on this post.
Sorry, the comment form is closed at this time.