June 2, 2021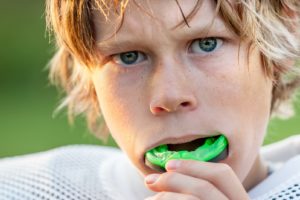 No one ever expects a dental emergency to happen to them, but 1 in 6 people have oral health issues that require immediate care each year. Although anyone can need urgent dental attention, athletes are the most prone to oral injuries. The Journal of the American Dental Association reports as much as 39% of dental injuries are sports-related. Here are 3 of the most common dental emergencies for athletes and how you can protect your smile.
1. Cracked Teeth
According to the American Dental Assistant's Association, 10% of athletes will experience a dental or facial injury during any given season. Although they can take many forms, cracked teeth are common, especially longitudinal cracks. Also called craze lines, they spread across the enamel. They aren't a major risk to dental health, but you'll still need treatment. If a crack extends downward from the tooth's crown causing a split, you need to see your dentist right away to prevent bacteria from getting trapped in the small crevasse, which could ultimately lead to the loss of your tooth. Often, composite bonding or a crown is all that's needed to fix cracked teeth.
2. Fractured Roots
If you take a blow to your face at a certain angle, it can cause your tooth's root to break. It can be difficult to detect because it can extend from the root upward in a way that's not visible. Often, the crack isn't found until an infection deep within the tooth has occurred, which will require a root canal to resolve. With quick care, your dentist can restore the health and function of your tooth to prevent an infection.
3. Tooth Intrusion
You might believe a knocked-out tooth is the worst that can happen, but intrusion can also occur. This is where the teeth get driven back into the jawbone. It's typically an injury that occurs with the baby teeth because a child's alveolar bone is still soft, but adults can have intrusion, too. Your dentist can often save the tooth if you act fast, but if it is too badly damaged, they may recommend replacing it, such as with a dental implant.
Safeguard Your Smile
The National Youth Sports Safety Foundation estimates athletes are 60 times more likely to damage their teeth if they aren't wearing a mouthguard. The custom-fit device provides a layer of cushion to protect the teeth, gums, soft tissues, and jaw if there's an impact to the mouth or face. Research shows an athletic mouthguard can also lessen the severity of a concussion.
You wouldn't head out onto the football field without your helmet, so don't leave your mouth unprotected. Ask your dentist for an athletic mouthguard to safeguard your smile.
About Dr. Dawnmarie Digrazia
Dr. Digrazia earned her dental degree at the University of Medicine and Dentistry of New Jersey after working as a dental assistant. As a member of the Academy of General Dentistry and New Jersey Dental Association, you can feel confident your smile is in good hands. If you need a mouthguard, contact our office today for an appointment.
Comments Off

on 3 Most Common Dental Emergencies for Athletes
No Comments
No comments yet.
RSS feed for comments on this post.
Sorry, the comment form is closed at this time.