April 16, 2022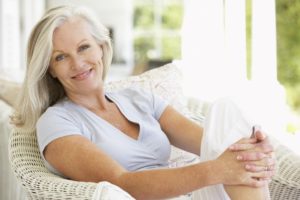 Menopause is an unavoidable part of womanhood, which occurs between the age of 45 and 55. It marks the end of a woman's reproductive cycle. At this stage in life, women can develop an increased risk of certain health issues, like bone loss. The decline in estrogen can lead to brittle or fragile bones, affecting the overall success of dental implants. Whether you already had dental implant surgery, or you are ready to replace your missing teeth, your dentist has the solutions you need to safeguard your investment from bone loss.
Why Does Bone Density Matter?
A dental implant is unlike any other prosthetic because it recreates both the root and crown. A titanium post is surgically placed into the jaw to mimic the root and support a prosthetic tooth. The long-term success of the procedure relies on your jaw fusing to the post through a process called osseointegration. If there isn't adequate bone density, the implant will ultimately fail.
It isn't unusual for patients interested in dental implants to have bone loss because each natural tooth is vital for a healthy smile. Losing a single tooth will cause your jawbone to shrink. You can lose up to 25% of its density within the first year, which will continue as more time passes. When combined with certain health issues, like those caused by menopause, it's a common obstacle for many women, but that doesn't mean you can't get dental implants.
With a customized treatment plan, you can replace your lost teeth and preserve your bone density for a strong and healthy smile.
Dental Implants After Menopause
The consultation process for dental implants involves a CT scan, which allows your dentist to view your oral structures. They can determine if your bone is healthy enough for dental implants. If you have bone loss from missing teeth, menopause, or another issue, you may be a candidate for bone grafting.
Dental implants and bone grafting go hand in hand, although not every patient needs the additional procedure. Bone grafting is used to enhance the thickness of the jaw. Bone from another area of the body or a donor is grafted onto the area to allow for dental implants.
Bone grafting can also help women who already have dental implants. Your dentist can monitor your bone health to detect any concerns before they lead to dental implant failure. If they find bone loss after menopause, they can reinforce your dental implants to ensure your investment continues to thrive.
Promote Your Bone Health
You're never too old to benefit from dental implants. If you've reached menopause, your implant dentist has the approach you need to maintain your best smile.
About Dr. DawnMarie DiGrazia
Dr. DiGrazia earned her dental degree at the University of Medicine and Dentistry of New Jersey and has completed extensive training in advanced procedures, like dental implants. She takes pride in creating confident, beautiful smiles for every patient. Contact our office today to request your consultation to reach your oral health goals.
Comments Off

on Are Dental Implants Safe After Menopause?
No Comments
No comments yet.
RSS feed for comments on this post.
Sorry, the comment form is closed at this time.