Dental Implants – Somerville, NJ
Replace Teeth to Enhance Smiles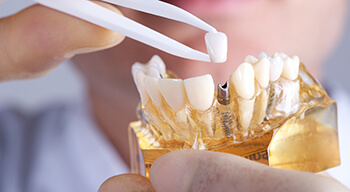 After tooth loss, finding a comprehensive solution is crucial for your smile health. Replacement options that don't restore the underlying root structure, as well as the visible crown, are insufficient for long-lasting results. That's why more and more dentists are recommending dental implant supported tooth replacement. At Somerset Dental Arts, we partner with local specialists to place and restore the highest quality implant-retained dental prosthetics. Call our team to schedule a dental implant consultation to find out more.
Implant-Retained Dental Crowns & Bridges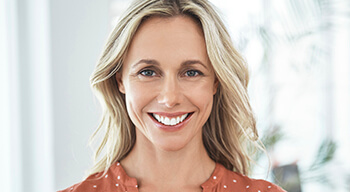 The first part of the dental implant tooth replacement process is the surgical replacement of the implant posts. For this phase of treatment, we'll partner with a local surgical specialist to ensure your implant is placed successfully and safely. Each implant is placed by making an incision in the gums and positioning the implant post into the jaw. Following the procedure, patients need to wait three to six months for the post to fuse with the gum tissue and supportive alveolar bone. This fusion process is known as osseointegration, and it allows the dental implant to mimic the natural function of tooth roots. Once this process is complete, you'll return to our dental office where we'll attach your tooth replacement.
Patients missing one or more consecutive teeth should plan to receive dental implant-supported crowns or bridges. A single tooth can be replaced with one implant post attached to a dental crown. Two consecutive teeth can be fused together and attached to one dental implant post. Two dental implants are usually used for a bridge of three or more consecutive teeth.
Implant-Retained Prosthetics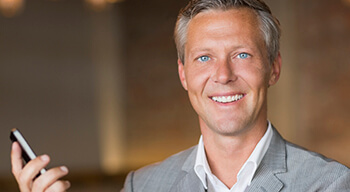 If you've experienced more advanced tooth loss, you should consider a dental implant-supported partial or full denture. An implant-supported partial denture is used to replace any number of missing teeth along an arch. Like a traditional partial denture, the base is molded to fit snugly between the remaining healthy teeth. Replacement teeth are attached to the base, and when connected to the dental implants, a partial completes a patient's smile flawlessly. A full denture is crafted to fit snuggly in position against the gums. We can typically support the denture with four to six strategically positioned dental implant posts.
When crafted and anchored properly, implant-supported restorations provide superior support and stability for the denture, and they typically need to be replaced or repaired less frequently. That makes dental implants a cost-saving alternative over the lifetime of your denture.