May 5, 2022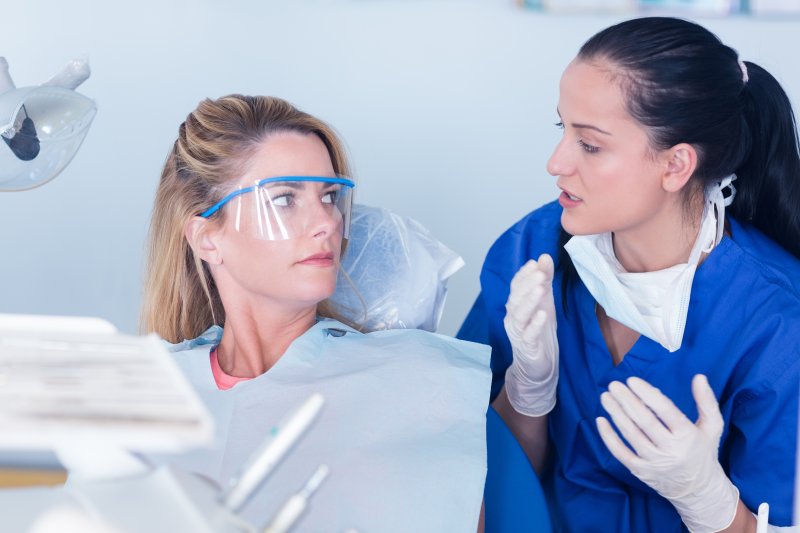 Has your dental implant been feeling loose or uncomfortable lately? Do you find that it moves around in your mouth whenever you chew or speak? If so, your dental implant may not be healing properly. Though dental implant failure is rare, that doesn't mean it's impossible. If this ever happens to you, it's important to visit your dentist as soon as possible to have the issue addressed. Read on to learn about removing a failed dental implant as well as some common reasons why this occurs.
What Causes Dental Implant Failure?
Dental implants are titanium screws that are inserted into the jawbone to replace missing tooth roots. Though they are meant to fuse with the jawbone through a process called osseointegration over the next four to six months, several things can lead to implant failure, including:
Poor oral hygiene – Peri-implantitis is an infection of the gums that's similar to periodontal disease. It's caused by improper oral hygiene and results in the deterioration of the gums and bone that support an implant.
Weak jawbone – If the jawbone isn't strong enough or dense enough to support dental implants, this can cause them to fail.
Tobacco use – According to studies, as many as one in five smokers who have dental implants experience implant failure.
Medical conditions – Osteoporosis, autoimmune issues, and other medical conditions that impair one's ability to heal can prevent successful osseointegration.
How Your Dentist Removes a Failed Dental Implant
While removing a failed dental implant, your dentist will do their best to preserve as much of the bone structure as possible. A common removal method involves an instrument called a trough bur that allows them to cut into a small section of the jawbone along the edge of the implant until it's detached enough for them to pull it loose. Your dentist will use a local anesthetic to numb the area before they begin. They may also use dental sedation to ensure that you're comfortable and relaxed throughout the procedure.
How Soon After Removing a Failed Dental Implant Can You Get a New One?
In short, the answer to this question depends on the individual. Before you have a new implant placed, your mouth must be free of infection. Your jawbone will also need to be healthy and dense enough to support a new implant. Patients usually need to wait a few months after removing a failed dental implant to ensure that they have healed fully. Additionally, your dentist may recommend a bone graft to strengthen your jawbone if it's begun to deteriorate.
Though uncommon, dental implants still fail from time to time. If this ever happens to you, make sure to visit your dentist as soon as possible so they can remove it and help you regain a healthy smile!
About the Practice
Led by Dr. DawnMarie DiGrazia, Somerset Dental Arts offers patients in Somerville and the surrounding cities exceptional oral health services such as checkups, cleanings, and emergency, restorative, and cosmetic procedures. If your dental implant is starting to feel loose or causing pain or discomfort, they can remove it, take care of the infection, and discuss plans to have it replaced in the future. To learn more about removing a failed dental implant or to schedule an appointment, visit Somerset Dental Arts' website or call their office at (908) 722-2999.
Comments Off

on Removing a Failed Dental Implant: What to Expect
No Comments
No comments yet.
RSS feed for comments on this post.
Sorry, the comment form is closed at this time.