August 12, 2022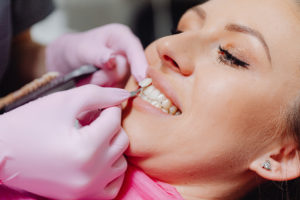 As you look around you, it might seem like everyone has a flawless smile, but most didn't come naturally. Cosmetic dentistry provides solutions to fit all budgets, so people from all walks of life can revamp their smiles. While there are many options, veneers continue to rank among the most popular elective procedures annually. You might believe they are a relatively new treatment; however, the history of porcelain veneers goes back further than just a few decades. Here's how a procedure that was once only available to the rich and famous has become a cost-effective option for everyone. 
Invention of Veneers
The first porcelain veneers earned time in the spotlight after actor Charles Pincus wore them for a film shoot in 1928. However, they differed greatly from modern veneers. They were attached using a removable adhesive, which led to the development of longer-lasting options, like using acrylic. Although they may have stayed in place longer, they were damaged easily and needed to be replaced often. As a result, they were too expensive for most people.
Etching Revolutionizes Veneers
Dr. Michael Buonocore is responsible for revolutionizing veneers, thanks to the invention of etching in 1959. Although it has been over half a century, etching is still used today for restorative and cosmetic procedures. It creates a porous surface on a tooth to cement restorations in place. The weak acid forms deeper grooves and pits for a stronger, long-lasting bond.
Etching improved significantly in 1982 when a research group found hydrofluoric acid was an effective etching technique. It's painted on the teeth before applying a putty-like resin to attach veneers. This created the first semi-permanent bonding method.
Modern Porcelain Veneers
Although the etching and bonding process has remained much unchanged over the last few decades, the materials used to make veneers have improved. Modern veneers are thinner than ever, allowing less enamel to be removed during bonding. This makes the process less invasive without compromising the lifespan of your new smile. You'll benefit from natural-looking results that can last for a decade or longer with the right aftercare, like brushing and flossing.
Are Veneers Right for You?
If you're unhappy with the way your teeth look, you may be a candidate for veneers; however, you'll require a consultation with your cosmetic dentist to ensure they are right for you. Typically, veneers are recommended for patients interested in correcting:
Stains or discoloration
Chipped or cracked teeth
Gaps between teeth
Your dentist will use the latest technologies and techniques to create the picture-perfect smile you desire. If you're ready to invest in a tried and proven method, schedule your consultation today.
About Dr. DawnMarie DiGrazia
Dr. DiGrazia earned her dental degree from the University of Medicine and Dentistry of New Jersey and pursued higher education in advanced services, like cosmetic dentistry. She combines the art and science of dentistry to create attractive, confident smiles. Contact our office today to schedule your consultation for porcelain veneers.
Comments Off

on Explore the Evolution of Veneers
No Comments
No comments yet.
RSS feed for comments on this post.
Sorry, the comment form is closed at this time.