Cosmetic Dentistry – Somerville, NJ
Your Cosmetic Dentist in Somerville, NJ Perfects Smiles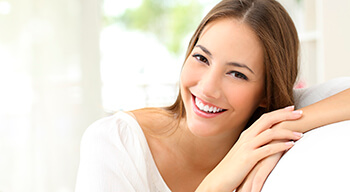 If you want to whiten, brighten, or completely transform your smile, Dr. DawnMarie DiGrazia and the Somerset Dental Arts team offer a variety of cosmetic dentistry services to give you the celebrity smile you've been dreaming of. From porcelain veneers to Invisalign orthodontics, we can give you the picture-perfect celebrity smile you want. Call our Somerville, NJ dental office to find out more or to schedule your cosmetic dentistry consultation. We are happy to provide treatment for patients from surrounding communities, including Middlesex and Manville.
Porcelain Veneers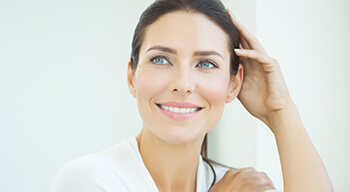 Veneers are thin sheaths of dental-grade porcelain that are fixed to the front surfaces of teeth that show when you smile. These high quality, durable cosmetic restorations allow us to quickly and easily correct a number of cosmetic irregularities with a single solution.

Most patients are eligible for porcelain veneers. If we determine that the treatment is the best option for you, the process place over the course of two appointments. During your initial visit, we'll remove a small amount of surface tooth enamel that will allow the veneer to lay flat within the natural smile line. Then, we capture bite impressions that are used by the dental lab to craft your custom veneer. Before you leave this initial appointment, we place temporary veneers that protect your prepared teeth. Once we receive the final restorations from our lab, you'll need to return to exchange your temporary for custom veneers.
Metal-Free Dental Restorations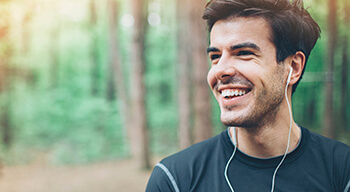 We offer dental restorations in a variety of materials including gold, porcelain bonded to metal, and metal-free BruxZir zirconia crowns. Each of these materials has unique advantages, but zirconia crowns are the ideal option for patients who have sensitivities or allergies to metal. Gold crowns offer the strongest solution, but they are the least natural looking restoration material. Porcelain bonded to metal crowns and bridges offer a more cosmetic appearance, but they increase the amount of wear against the opposing teeth. Additionally, porcelain bonded to metal crowns darken with age, as the porcelain layers of teeth are worn away revealing the metal beneath.
High-quality BruxZir restorations offer the best of both options. These restorations are durable and long-lasting, with minimal wear against opposing teeth. They also look more natural than other solutions. In addition to repairing damaged teeth, we can even use these natural looking restorations to repair or conceal purely cosmetic concerns.
Dental Bonding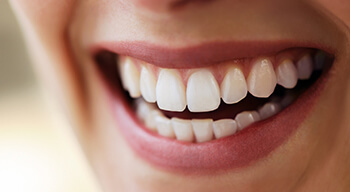 If you'd like to conceal cosmetic flaws like chips, cracks, gaps, and stains in just one appointment, we may be able to correct your cosmetic irregularities with composite resin. It's the same material used in tooth colored fillings, and it can be used for purely cosmetic improvements in a process known as direct bonding.
In addition to only requiring a single appointment, direct bonding is a more affordable treatment option — and we typically do not need to remove any natural tooth structure before completing the direct bonding procedure. Instead, we apply the putty-like composite resin directly to teeth. Once in place, the composite resin is hardened into position using a curing light. We then polish the treated tooth, leaving you with a flawless smile in a single visit.
Invisalign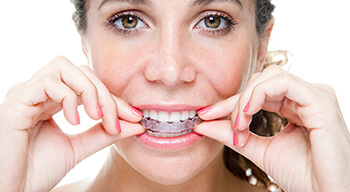 If you're looking to straighten your smile without the discomfort, inconvenience, and related stress of traditional braces, Invisalign may be the best option for you. Rather than using brackets and wires to shift teeth like traditional orthodontics, the Invisalign system uses a series of clear, plastic alignment trays. When worn for about two weeks, these aligners shift your teeth into this new position. Then you simply need to switch to the next set of alignment trays in the series. Each set of aligners represents one step closer to the desired alignment of your teeth!
The entire Invisalign process is typically completed within twelve months and requires much less frequent visits to our dental office than traditional braces. Most importantly, your daily life won't be significantly impacted as the aligners are removable, allowing you to continue your typical diet and oral hygiene routines.
In-Office Teeth Whitening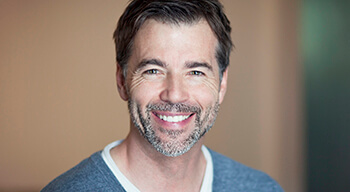 If you're looking for a brighter smile in just one appointment, we can help with the Opalescence Boost system. It's an in dental office whitening treatment that brightens smiles up to ten shades in just one visit. We apply the Opalescence Boost whitening agent directly to teeth, and it works to brighten smiles in just about an hour. Opalescence incorporates fluoride and potassium nitrate in its whitening gel in order to reduce sensitivity.
Learn More About In-Office Teeth Whitening
At-Home Teeth Whitening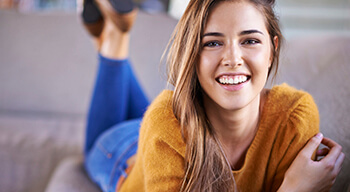 If you'd prefer to brighten your smile at home, don't waste time and money on store-bought solutions that promise dramatic results they can't deliver. Instead, let Dr. DiGrazia create a customized whitening plan to meet your unique goals. We will adjust the dosage of whitening agent and treatment times to offer you the best results. Additionally, we provide a customized application tray that keeps the whitening agent on your teeth and allows it to remain active longer than over the counter products.
Gum Recontouring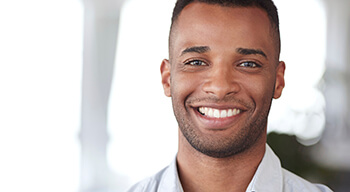 If you have a smile that looks gummy or teeth that appear stubby, you may need a procedure known as gum recontouring. This treatment removes a small amount of gum tissue to even out the gums and also creates a more appealing smile line. The procedure is quick and effective, and in some cases, we can complete the treatment using a soft tissue laser for decreased bleeding and discomfort, as well as a significantly accelerated healing time.