November 11, 2022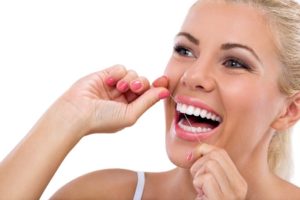 If you've invested in dental implants to replace your missing teeth, you have made a wise decision. As the only treatment to recreate both the root and crown, a dental implant is the next best thing to a natural tooth. Not to mention, it can last for decades with the right care, but brushing isn't enough to safeguard your new smile. Flossing dental implants is vital for their long-term success. There are a few things you should know before reaching for some dental floss.
Flossing Prevents Peri-Implantitis
A dental implant has over a 95% success rate and is proven to last for 30 years or more. Although dental implant failure is rare, a leading cause is a preventable infection called peri-implantitis. It's like gum disease, which can destroy the jawbone supporting your dental implant.
Peri-implantitis is caused by bacteria in plaque and tartar. A good oral hygiene routine can keep the infection at bay. Although your toothbrush is effective at removing bacteria, food particles, and plaque, it can't clean everywhere in your mouth, like around the dental implant. Flossing is the only way to remove any plaque left behind by your toothbrush.
Flossing Dental Implants
Although dental implants look and feel like real teeth, they can't be flossed the same way. Your natural teeth have periodontal ligaments, which contain nerves to alert you that you're pushing too hard when flossing. However, dental implants don't have ligaments. Instead, they have peri-implant seals. They are weaker and don't contain any nerves, which means they are easier to damage. If the seal is broken, bacteria can enter the gum pocket and access the jawbone, which can ultimately lead to dental implant failure.
While there's a risk of harming the tissue, you can't skip flossing. Choose high-quality floss that has earned the American Dental Association's Seal of Acceptance. Carefully insert the floss and gently clean around your dental implant. If you have a habit of pushing too hard or you're worried about damaging the peri-implant seal, consider using a waterflosser. It emits a gentle stream of pressurized water to remove plaque and bacteria. A waterflosser can provide a better clean than standard floss. Finish up your oral hygiene routine with an antimicrobial mouthwash. It will kill any harmful pathogens that weren't removed by brushing and flossing.
Ensure Your Dental Implants Last
Besides brushing and flossing, break any bad habits that can increase your risk of failure, like smoking or chewing on your fingernails. Don't forget to visit your dentist every 6 months for a cleaning and checkup. Keeping your mouth clean and healthy will ensure your investment lasts for a lifetime.
About Dr. DawnMarie DiGrazia
Dr. DiGrazia achieved her dental degree at the University of Medicine and Dentistry of New Jersey and has regularly pursued higher education in advanced services, like dental implants. She is a proud member of various professional organizations, including the Academy of General Dentistry and the New Jersey Dental Association. Whether you're ready to replace your missing teeth or you need a cleaning and checkup, contact our office today to request an appointment.
Comments Off

on Flossing Prevents Dental Implant Failure
No Comments
No comments yet.
RSS feed for comments on this post.
Sorry, the comment form is closed at this time.