January 4, 2023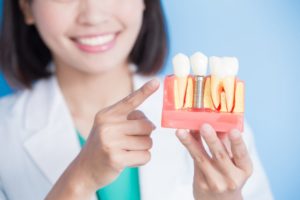 When it comes to replacing missing teeth, dental implants are fully capable of restoring lost pearly whites in terms of look, feel, and functionality! However, if you have gaps in your smile that you need filled, you might be wondering if implants are just as safe as they are effective. Here's why you have nothing to worry about when it comes to getting dental implants.
How Do Dental Implants Work?
Dental implants consist of titanium posts that are surgically embedded into the jawbone, where they fuse with the bone and mimic the roots of your natural teeth. Once the post(s) have bonded with the bone, a lifelike restoration is placed on top of the post that effectively replaces the missing tooth/teeth. Patients with dental implants can experience many positive oral health benefits including improved speech and appearance, increased chewing power, and unmatched durability!
Are Dental Implants Safe for Me?
In short, dental implants are completely safe to receive and over half a million dental implants are successfully placed each year! Even though the process for receiving dental implants might seem a little daunting, it's absolutely nothing you need to worry about; your dentist is always going to prioritize your well-being when it comes to any type of dental procedure. If there's any type of problem that might negatively affect your implants (gum disease, insufficient bone density, etc.), it will be treated beforehand.
It's also worth mentioning that all oral surgeries inherently carry a small risk of bleeding disorders, infections, and allergic reactions, but due to the care and precautions that'll be taken by your dental team, every effort will be made to ensure your safety and comfort at all times. Once the procedure is over, assuming you take care of your implants, they'll serve you well and without issue for many years to come!
What Could Cause My Dental Implants to Fail?
Although dental implants have an awesome success rate of over 95% and are designed to function as a permanent solution, there are still some things that might cause them to fail prematurely. Be wary of the following:
Autoimmune diseases such as diabetes or rheumatoid arthritis can inhibit your body's healing capabilities and prevent your implants from properly fusing with your jawbone (osseointegration).
Certain medications can suppress the body's immune system or affect bone health, which can negatively impact osseointegration.
Poor oral hygiene can lead to all kinds of problems that might impact your implants, such as gum disease.
Bone loss can lead to a weaker jawbone that's not able to fully integrate your implants.
Bad oral habits like smoking and using tobacco greatly increases the risk of implant failure, as well as other severe oral health issues.
About the Practice
The team at Somerset Dental Arts is thrilled to serve patients and families in the Somerville, NJ community under the leadership of Dr. DawnMarie DiGrazia. Dr. DiGrazia received her dental doctorate from the University of Medicine and Dentistry of New Jersey and is a proud member of both the Academy of General Dentistry and the New Jersey Dental Association. If you have any questions about dental implants or would like to arrange a visit, you can contact the practice online or by phone for additional information or assistance: (908) 722-2999.
Comments Off

on Are Dental Implants Safe?
No Comments
No comments yet.
RSS feed for comments on this post.
Sorry, the comment form is closed at this time.